Chokers necklaces
Chokers are delicate necklaces worn around the neck. In BEMOON we create them with stones, pearls and precious metals. We make jewelry only from natural materials, the highest quality is our priority, which is why our products retain their shine for a long time. Neck chokers are a way to express themselves, emphasize sensuality and praise natural beauty.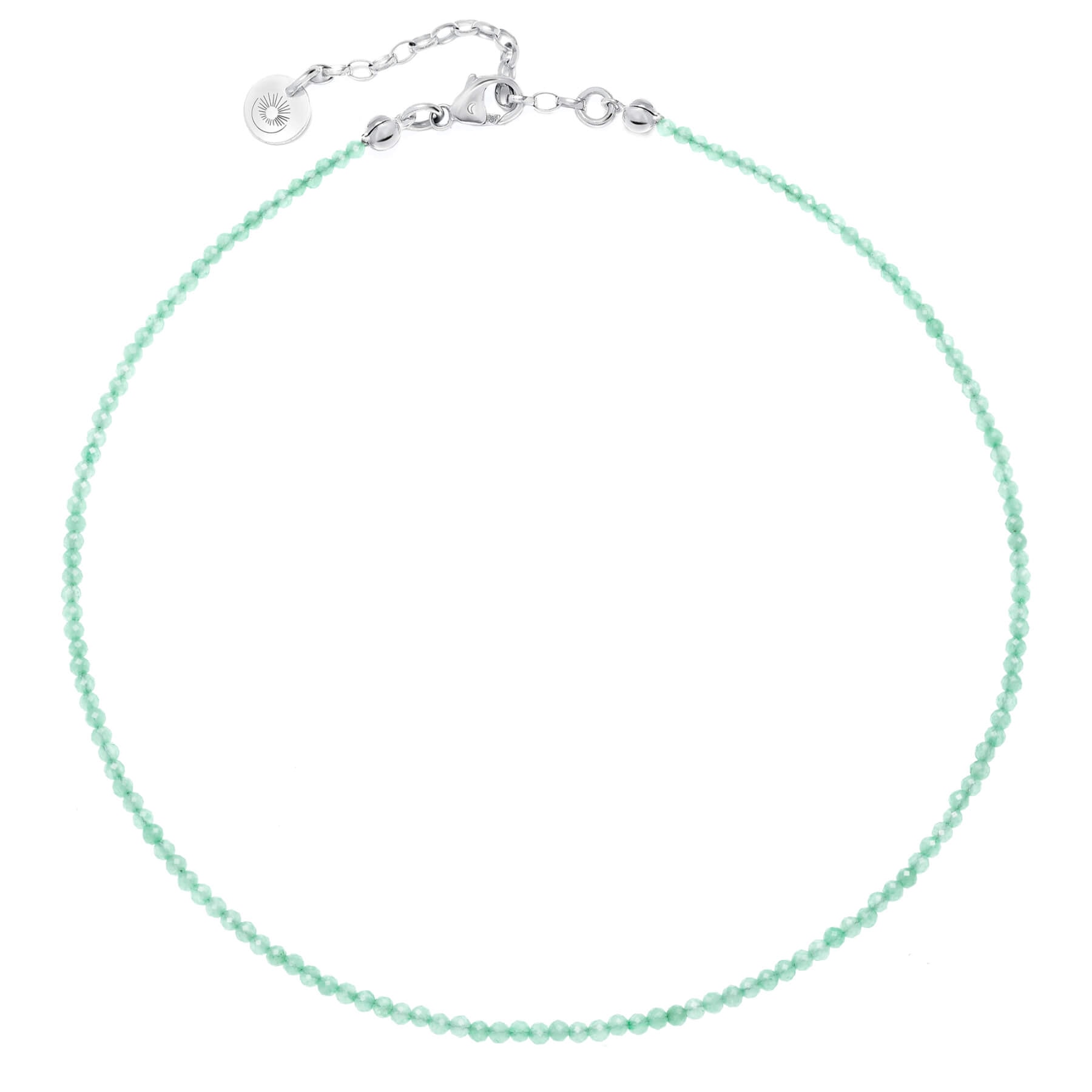 Neck chokers
Our offer includes handmade neck chokers made of various stones, pearls and silver. Products made of natural materials have enormous power that they share with us, providing peace, joy, courage and strength. That is why it is worth having such an ornament. Especially when it adds charm.
We pack each choker in an elegant box, add a sprig of white sage, a handwritten letter by Monika and a cloth for polishing silver elements. And if you are buying a short necklace made of natural stones as a gift, check the free gift wrapping option. We will add a bag to the package in which you will give your gift.
Gemstones chokers necklaces
Gemstones from which we make neck chokers:
Agate – found in nature in many colors and so are our neck chokers. Colorful, interesting and inspiring. This stone brings balance and brings out our natural talents.
Amethyst – brings physical and mental balance. It soothes, decorates with its delicately purple color and enhances the energy of the accompanying stones. Amethyst neck choker should be combined with necklaces made of other stones.
Aventurine – a stone with extraordinary power that helps to regenerate vitality and has an effect that strengthens the immune system. It strengthens the heart, reduces stress and allows you to discharge negative emotions. It is an excellent stone for meditation and gives artists a creative inspiration.
Moonstone – mysterious, white in color, but with hidden blue streaks, visible only when the sun shines. This stone promotes happiness, adds shine to any styling and distributes good energy.
Sunstone – has yellow-red reflections. It flickers in the sun and tempts with its brilliance. It brings vitality, drives away bad thoughts and brings harmony. Its effect is stronger when combined with a moonstone.
Labradorite – is a multidimensional color stone, showing the entire spectrum of colors in the rays of the sun. Labradorite helps to make dreams come true because everything is possible with it.
Garnet – we use them to create neck chokers with a strong color. Dark red pomegranate will have a positive effect on our sensitivity.
Onyx – inner strength, resilience, determination – these are the features of onyx. Perfectly black stone is also a great addition to any outfit and any occasion.
Citrine – a stone of happiness, joy, optimism. The person who chooses a neck choker with this yellow stone will be a volcano of energy, and any endeavors will be successful.
Fluorite – known as a healing stone. Supports the nervous and skeletal systems, heart function, reduces the effects of stress, improves metabolism, and increases the ability to think logically. The fluorite neck choker will be the perfect choice for anyone who needs a strong talisman.
Onyx – inner strength, resilience, determination – these are the features of onyx. Perfectly black stone is also a great addition to any outfit and any occasion.
Smoky quartz – has cleansing properties, helps to change plans into reality, is helpful in overcoming various addictions and toxic relationships. It helps in diseases of the pancreas, kidneys and the treatment of chronic pain.
Rose quartz – it is a stone of love, thanks to its color it is extremely romantic. It attracts love to our life – both the romantic one, as well as parental and brotherly love, it evokes empathy. Wearing it gives you energy, happiness and hope.
Lapis lazuli – is a stone of wisdom, the properties of which were already valued in ancient Egypt. Wearing it causes an expansion of the worldview, increases creativity, organizes thoughts. It supports people involved in creative work and protects them from burnout.
Morganite – protects against misfortune, accidents and bad luck. It adds self-confidence, courage, and helps to make decisions. It attracts positive people and positive situations to us.
Opal – since antiquity, it has been used to treat heart diseases, neuroses and melancholy. It has tremendous power – it develops creativity, the ability to predict events, attracts prosperity and positive events. It is believed to lower cholesterol, strengthen bones and regulate blood pressure.
Pearl – some of the most beautiful and beloved stones deserve to be dedicated to a choker. Pearls bring good luck and allow you to look at yourself in a positive light. Wearing pearls strengthens your mental and physical health.
Ruby – is a stone of abundance and dynamism. It adds energy, evokes positive thoughts, strengthens the heart and fortitude, supports the regeneration of the body after diseases. Provides abundance and happiness.
Spinel – this rare and valuable stone is responsible for increasing the vital energy and better functioning of the body. It affects fertility, regeneration after physical and mental illnesses, and has an analgesic effect.
Sapphire – called the stone of wisdom, faith and peace of mind. He is covered with a halo of mystery and the status of one of the strongest amulets. It ensures prosperity in love, gives energy, attracts happiness, and allows you to choose the right path in life.
Emerald – it is a stone of hope, wisdom and a clear mind. Its green color soothes, chases away bad thoughts and adds inspiration. It affects the work of the heart, eye diseases, digestive system, and helps to cope with insomnia and stress.
Tanzanite – a wonderful, blue-purple stone that cleans from worries, adds joy and reduces stress. Tanzanite heals an aching soul and helps you find the right path.
Topaz – perfect for people who need peace and mental balance. It allows you to see the positive sides of life and supports you in making your dreams come true. It promotes the treatment of insomnia, ensures fast falling asleep and strong, healthy sleep.
Tourmaline – cleanses the mind and body, prevents exhaustion and promotes regeneration. It has analgesic and anti-inflammatory properties and promotes fertility.
The process of creating jewelry is magic, focus and great passion. We want our choker necklaces to accompany you every day and in the most beautiful moments of your life. Check out our available products. And if you haven't found the natural stone you were looking for – let us know. We will try to create a personalized amulet.
Pearl chokers
A pearl neck choker is a unique product in our collection. We value it for its naturalness, class, subtlety and properties. Pearls are miraculous stones, formed from a tiny grain of sand which, when it enters the shell, is gradually surrounded by the mother of pearl. Pearls cleanse our body, help to enjoy life and promote self-acceptance. A pearl choker is a perfect gift for a friend, sister or yourself.
Short necklaces made of natural stones
Gemstones neck chokers are a timeless decoration that will complement many looks. Such a short necklace can be worn either with a silver or gold chain. Solo and with other products. No matter what color of a short necklace made of natural stones you choose, their shine will charm you at first sight. It's just in their nature.
What to do when the choker necklace broke?
Each choker is threaded on a high-quality jewelry line. However, we know that ornaments are sometimes put to a very severe test. That's why when you buy one of our neck chokers at Bemoon, you are guaranteed a free repair. When your favorite ornament breaks off, collect all the stones and send them along with the silver elements to our workshop. We will re-thread the natural stones and make your favorite stone choker look new around the neck.
Chokers online store
Choose Your dream chokers online and order them to any country in Europe. We ship jewelry from our small workshop in Poland. After You complete Your order, we start to create magic. All available chokers online we ship approximately in 2-3 days. So Your dreamed jewelry is in Your hand within 10 days.
BEMOON – unique necklaces chokers
Each necklace choker made of pearls, natural stones and silver in BEMOON ends with a silver pendant with a symbol of balance. Our jewelry is an expression of respect and gratitude to nature, and at the same time it is a willingness to share its power. Open up to the miraculous effects of nature and its beauty that we have hidden in our neck chokers.